รายละเอียดเพิ่มเติม
ENLARGED BACKREST AND SEAT AREA
The largest of our gaming and office chairs, the HERO Series offers our most advanced backrest with a larger surface thanks to it being both taller and wider, combined with an integrated memory foam headrest it's our most feature-packed backrest to date. Offering an increased seat base along with larger armrests makes for our largest chair, offering unrivaled freedom of movement and comfort.
Increased armrest surface
Wider seat base
Larger backrest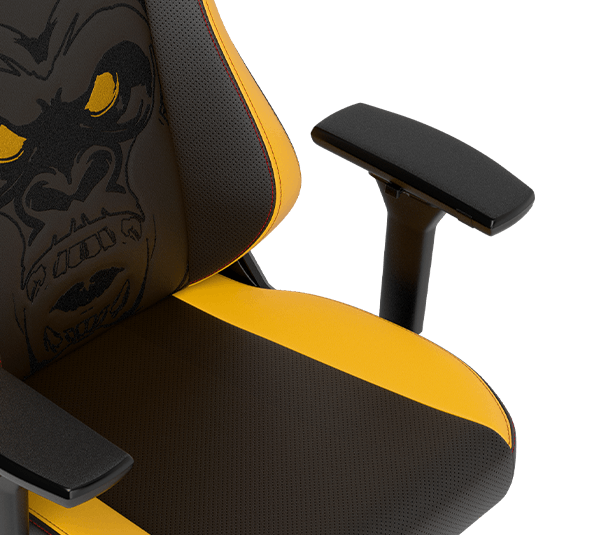 THE FAR CRY 6 DESIGN
Land on the beautiful Caribbean Island of Yara and prepare to take on Antón "El Presidente" Castillo and his dictator ways. Sit down, and step into the shoes of Dani Rojas as you fight to take your nation back to its former glory. Our Far Cry 6 chair gives the nod to Dani Rojas and their love for the Las Guerrillas baseball team with an alternate in-game artwork.
Embroidered Baseball Uniform inspired back rest with D. Rojas and the number six
Black and Solar Yellow theme throughout with red stitching and the Far Cry 6 logo
Oversized Las Guerrillas Gorilla Artwork on the backrest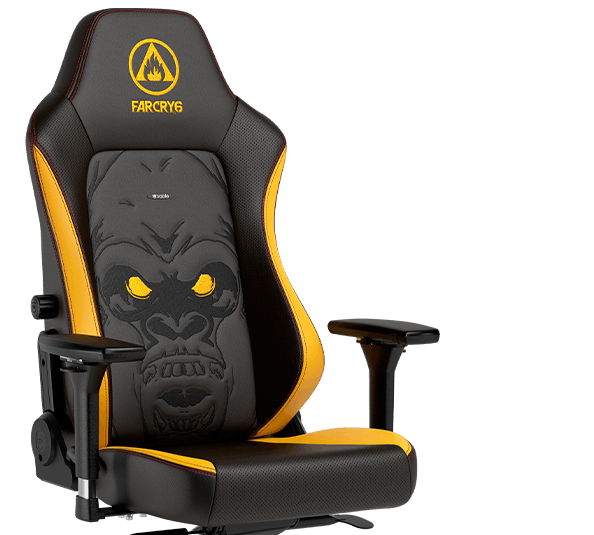 ERGONOMIC DESIGN
Designed in Germany and created in collaboration with our global partners of esport professionals, the HERO Series brings with it optimized ergonomics making comfort the highest priority over extended periods. The special design of the backrest ensures it conforms to the natural curvature of the spine, helping to better distribute the weight of the user and maintain maximum comfort.
Memory foam headrest removes the need for an additional pillow
Designed to perfectly support your back for ultimate comfort
Adjustable lumbar support and rocking mechanism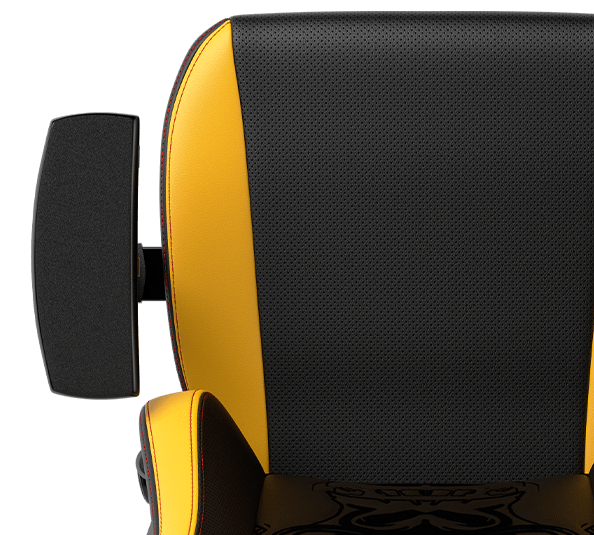 PREMIUM MATERIALS
Constantly raising the bar for quality when it comes to gaming and office chairs, noblechairs are made with premium materials throughout ensuring the HERO Series offers an emphasis on both comfort and quality.
Durable steel frame
High-Density cold foam padding for extended comfort and life
DIN EN 1335 Certification for office chairs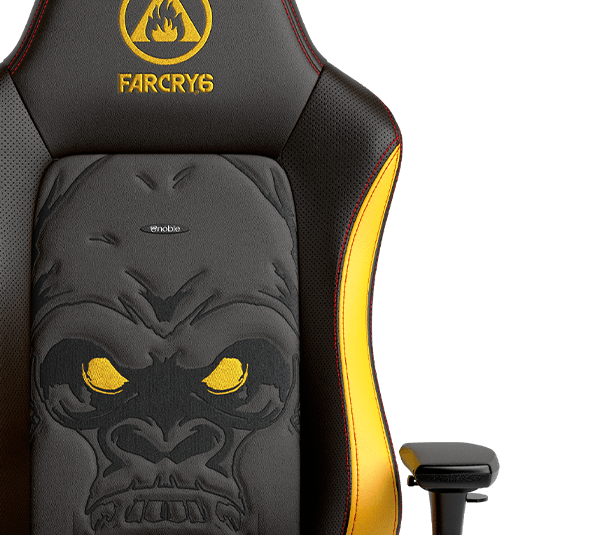 PU LEATHER WITH A BREATHTAKING DESIGN
Our high-quality 1.5mm 100% Vegan-Friendly PU Leather is the perfect canvas for our special edition chairs. Inspired by the latest Far Cry installment, Far Cry 6, get comfortable as you prepare to take on Antón "El Presidente" Castillo as Dani Rojas.
Durable, easy to clean, water-resistant, and breathable
1.5mm 100% Vegan-Friendly PU Leather
Stylish Far Cry 6 inspired elements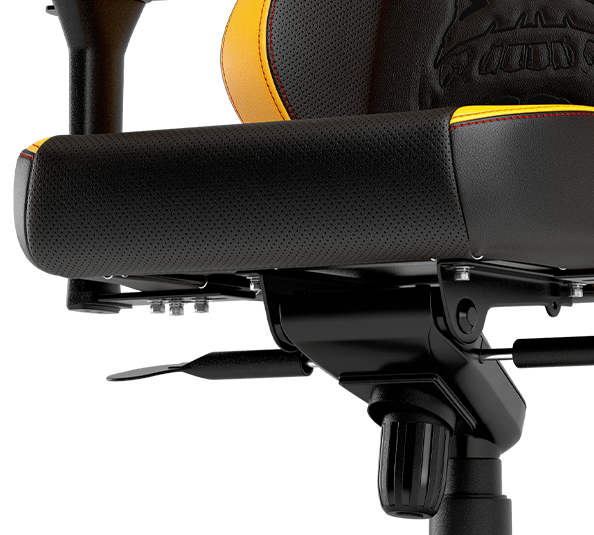 THE PERFECT POSITION FOR EVERY USER
Sit how you want with the noblechairs HERO Series. Height adjustment paired with our convenient 'rocker' mechanism offers a range of motion allowing you to find the perfect position. With 11° of movement on the 'rocker' mechanism, and the ability to set the backrest from 90° to 125°, you'll be playing, watching, or working in comfort at all times.
Fast and convenient backrest locking function
Adjustable seat height
90° to 125° of backrest movement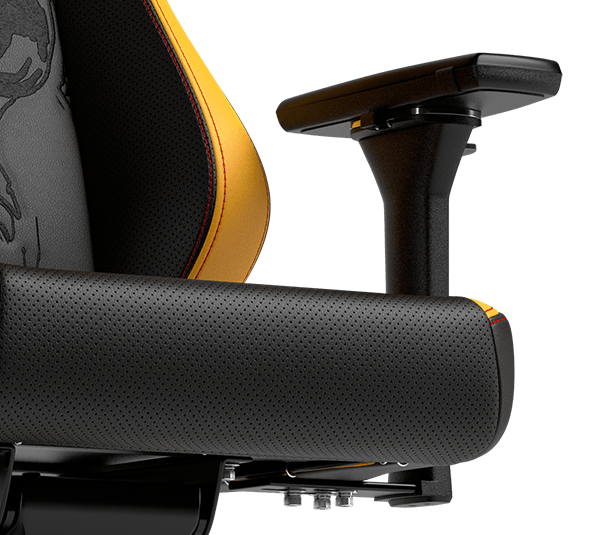 EXCEPTIONAL 4D ARMRESTS
With an increased surface area and an extensive range of movement options, the noblechairs 4D armrests offer a variety of positions that allow you to find the perfect stance for you. Adjustable in four directions, our polyurethane armrests offer a subtly textured surface helping to find a balance between softness and the right amount of grip for the most intense gaming sessions.
Height, depth, angle, and distance adjustment options
Polyurethane offering a balance between softness and grip
Oversized for added support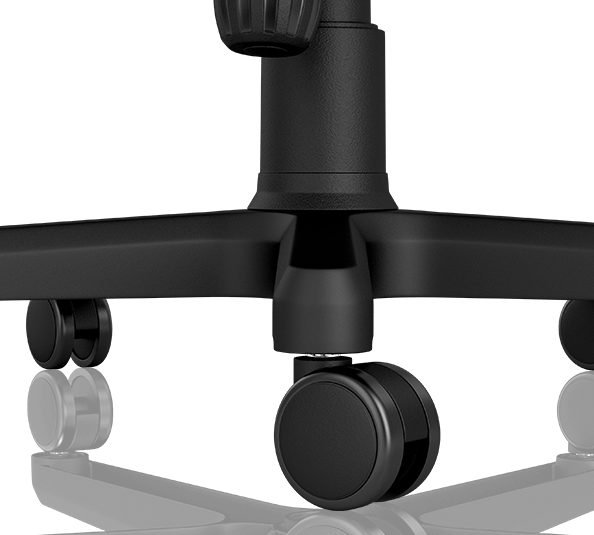 ROBUST ALUMINIUM BASE
The foundation of the HERO Series from noblechairs is the powder-coated wheelbase made from solid aluminum with five arms and specially designed castors. These 60mm castors consist of a Nylon core with a polyurethane coating that allows them to be both quiet and suited for use on both hard and soft flooring. Combined with the Safety Class 4 gas lift, the HERO Series has been designed in conjunction with the optimized base to offer support for a maximum load of up to 150 kg / 330 lbs.
Supports up to 150 kg / 330 lbs
Safety Class 4 gas lift
Powder-coated aluminum wheelbase both light and sturdy
60mm castors designed for soft and hard floors